Hauliers Goods in Transit and Storage Insurance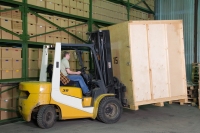 F C Gardner & Co are specialists in arranging Hauliers Goods In Transit insurance, and have an exclusive policy wording providing exceptionally wide cover developed with a leading Haulage Goods in Transit Insurance underwriter. Storage insurance can also be added if required.
Here are just a few of the reasons you should seriously consider using F C Gardner & Co for your Haulage Goods In Transit Insurance requirements:
Very competitive premiums
20 years plus experience advising hauliers
Exclusive policy wordings
Comprehensive fact find to ensure you have the right cover
Free advice on incorporating your terms and Conditions
Plain English explanation of any policy limitations or exclusions
If you are contracting to carry, or arrange storage for, other people's goods, it is essential that the correct insurance is arranged to fully protect you in the event of a claim.
The extent of your financial responsibility in most cases will depend on the terms and conditions, if any, under which you trade, and which have been adequately agreed with your customer before accepting the goods. This can be a complex area, particularly if sub-contractors are involved in the chain. If you are involved with a number of different contracts, your customers' requirements may vary widely, and the standard limits of liability may be increased by mutual agreement. If you are involved in the international carriage of goods by road, your liability will be governed by statute in accordance with the CMR Convention.
If you are the sub-contracted haulier you will need to ensure your insurance cover reflects the trading conditions used by your principal. We are always happy to talk directly to your principals to ensure the correct trading conditions are in place and therefore avoid problems in the event of a claim.
All insurance policies incorporate standard restrictions and financial limitations on certain types of goods, or goods that are totally excluded under the policy. Ignorance is bliss, but it can also lead to financial disaster if a large claim occurs and you find you have fallen foul of specific policy conditions. However, if you have a need for wider cover to be provided, this can often be arranged if adequate advance notice is given.
If all of the above appears rather daunting, rest assured that our staff have the benefit of many years of experience in arranging the Hauliers Goods in Transit Insurance and can guide you through this process to ensure that the right cover is arranged to protect your business.
Free, no obligation quote available upon request.