Business Vehicle Insurance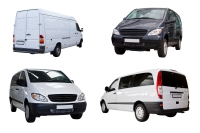 Business vehicles can come in all shapes and sizes, from company cars or goods vehicles to coaches or special types such as road sweepers and diggers. Whatever the vehicle, large or small, we have the experience to arrange a suitable policy with one of the wide range of specialist insurers on our panel.
We can arrange policies for individual vehicles or fleet policies from three vehicles upwards.
Policies can be tailored to your specific requirements and benefits such as replacement locks in the event of loss of keys, vehicles less than 12 months old replaced with new after total loss, courtesy vehicle following an accident, protected bonus, Green Card cover and Europe-wide breakdown cover can be included.
We will also arrange Uninsured Loss Legal Expenses insurance to give you wide ranging protection and benefits if you are involved in a non-fault accident. This will give you legal representation to pursue claims arising from an accident that was not your fault such as personal injury, loss of income, recovery of policy excess and vehicle hire charges. In many cases a suitable hire vehicle can be provided free of charge.
Free, no obligation quote available upon request.