Office Insurance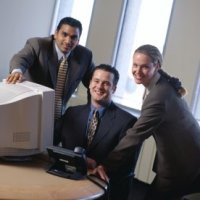 Whether you are Architects, Accountants, Freight Brokers, Estate Agents or Solicitors we can offer tailor made policies designed to cover the needs of any office-based business. As a professional you will want to be re-assured that your business is fully protected. By taking out one of the policies we can offer, you can relax with the knowledge that you are provided with the best possible cover and great value for money.
Our office insurance policies provide as standard all risks cover for your Contents, Money and Assault, Glass, Business Interruption, Public and Products Liability, Employer's Liability, Personal Accident and Commercial Legal Expenses.
Optional covers include Buildings, Tenants Improvements, Specified Equipment away from the premises, Employee Dishonesty, Employee Dishonesty, Computer Breakdown, Travel Cover and Terrorism.
Confused by insurance terminology and cover options available? Click on the options below for a plain English explanation.
Free, no obligation quote available upon request.