Shop Insurance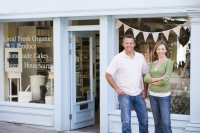 Whether you are a Butcher, Baker, Candlestick Maker or own a Corner Chop or Hairdressers, when your shop is your livelihood then you'll want to make sure that you're fully protected.
We can provide shop insurance packages that includes as standard all risks cover for your contents, money and assault cover, business interruption, employers' liability, public and products liability and commercial legal expenses.
Additional benefits can include a 24hr legal advice help line, 24hr glass and locks replacement service, access to risk management help line and a counselling service.
Buildings insurance or Tenants improvements can be added if required and cover for employee dishonesty, freezer contents, loss of licence and terrorism is also available.
Confused by insurance terminology and cover options available? Click on the options below for a plain English explanation.
Free, no obligation quote available upon request.