Marine Cargo Insurance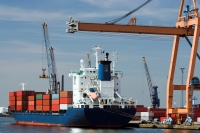 F C Gardner & Co has many years experience in arranging Marine Cargo Insurance and can provide tailor made policies to suit your requirements with the minimum of fuss.
If you are regularly importing or exporting goods, in association with our preferred partner, Northern Marine Underwriters, we can arrange your own online facility allowing you to place cover at any time of day or night, submit declarations, review accounts and administer claims, ensuring you are in full control at all times.
If it is only on the odd occasion you need to arrange cover, we can arrange this on a facultative basis.
For more information about the types of cargo policy normally available, please click on the options below:
Annual Contract - Monthly Declarations
Declarations of shipments / movements, are made on a monthly basis, or as otherwise agreed. Once arranged, you are guaranteed protection on the agreed basis for all shipments falling within the policy's provisions, subject to full shipping details of each despatch having been included on the relevant monthly declaration. The premium is debited monthly, or as otherwise agreed.
Annual Contract - Turnover Basis
Calculated against your estimation of the total value of the goods to be shipped, including uplift, during the agreed period, normally 12 months. This is subject to an agreed minimum premium payable up front and adjustable annually, or as agreed. Monthly declarations are not required.
Facultative Policy "one off" cover
This policy is available for the occasional single shipment and is often used for letter of credit requirements. An insurance certificate is issued together with the applicable additional insurance clauses.
Free, no obligation quote available upon request.